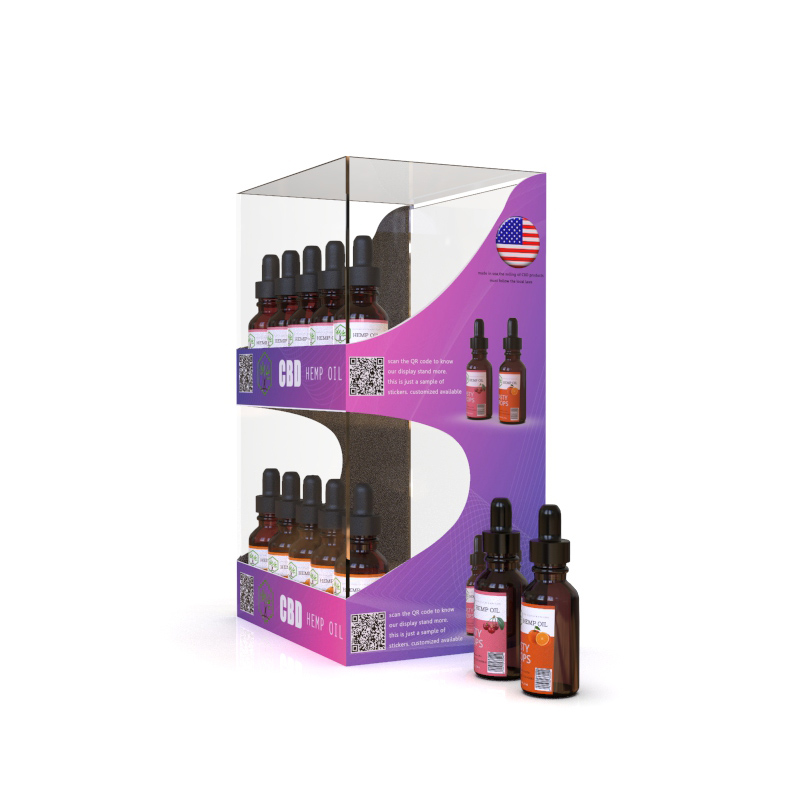 CBD Oil Display, Acrylic boxes display e-cigarette POSM
As a professional Vape display designer and manufacturer, We do deep customized service for acrylic vape displays, cbd oil displays, e-juice and e-liquid displays, e-cigarette racks. Please feel free to contact us to create your own display stand.
Description
Package Information
Inquiry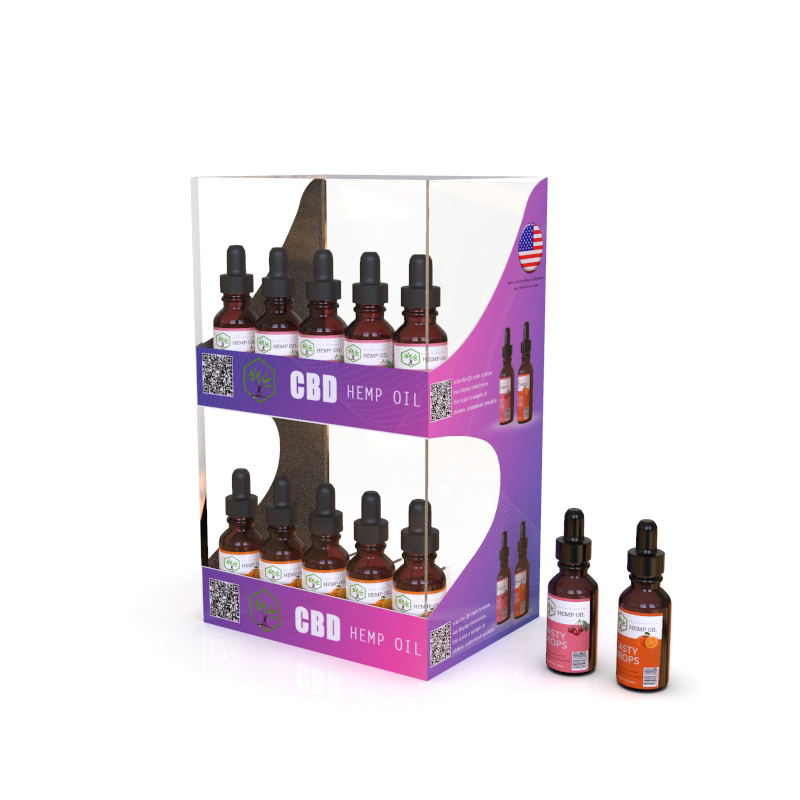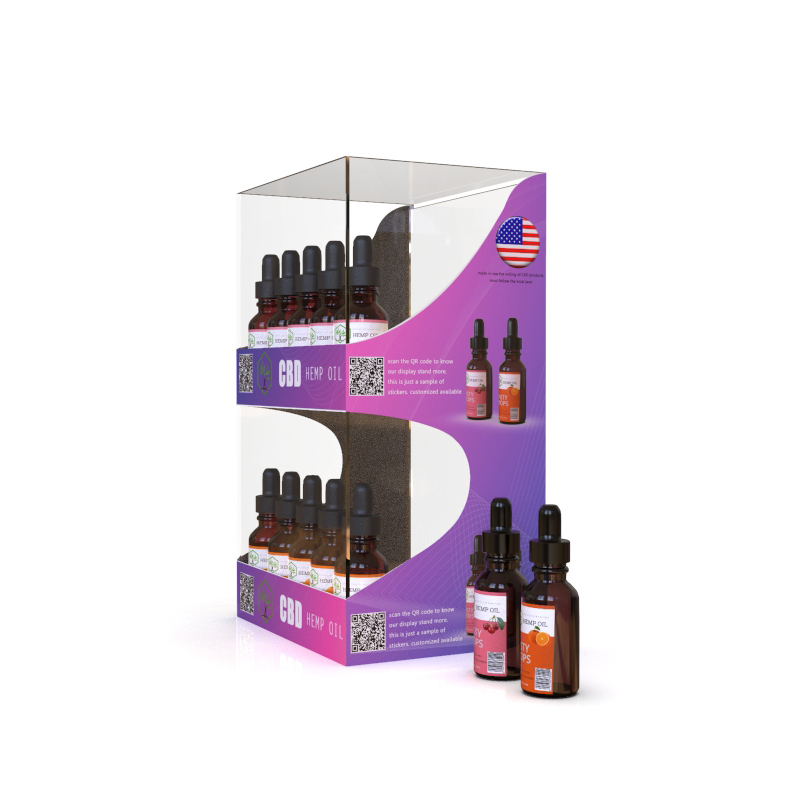 We can offer one stop service for your POS material needs, from your idea, to design, prototype, and mass production, from logistic to after-sales service. We can offer acrylic display posm such as:
* Brochure Holders
* Acrylic boxes
* Acrylic Literature Holders
* Retail Sign Holders
* Sign Holders
* Picture Frames
* Display Racks
* Slatwall Acrylic Display Racks
* Service Displays
* All kinds of showcases
Production process
Bending | Thermo forming | Line bending
With a series of Line Bending equipments allows high levels of flexibility. We can create straight line bends PMMA (cast & extruded acrylic),
We can Line Bend material ranging in thickness from 0.5mm up to 30mm with high quality process meeting our clients' needs.
Bending | Thermo forming | Oven
Our Thermo Forming machinery includes a range of ovens that allow right temperature control for heating materials to the ultimate soft state. We are able to bend large area panels and create shapes using a variety of molding options such as press molding and drape molding.
Bonding | One component Solvent glue joining
We are specialized in the adhesion of acrylic. Our work is recognized by the high quality we deliver and our attention
to detail. Working with water-thin Solvent glues allow for quick turnaround time for projects in our assembly department.
Bonding | UV Light curing glues
Our workshop is highly experienced in working with thicker acrylics. We use UV light technologies and adhesive glues to deliver
perfect bubble-free panel joins.
Drilling holes
Hand process and CNC router and Laser cutting options are available, depending on the task and materials. Our hand process uses special acrylic drill bits with a drill press when drilling holes in flat panels and blocks.
Diamond Polishing
Diamond Polishing is a machine process that uses specialized equipment; a diamond bit skims off a small amount of the surface edging delivering a perfect stress-free edge. When acrylic is laser cut the edges are automatically polished.
Hand Polishing
Hand Polishing is a manual process that uses a large buff wheel and acrylic soap to polish blocks and cutout shapes. Light refracts when it passes through a denser material allowing the buff-polished edges to come to life
Flame Polishing
Flame polishing equipment is used to produce a small chemical-free flame that melts the acrylic edge, leaving a shiny finish. Laser cutting of acrylic has mostly replaced the need to flame polish edges.
Sawing
A flat bed table saw is used to cut square panels of varying thickness and materials to the required size
Milling
A flatbed CNC Router is used to cut, shape, groove or engrave Acrylic
Engineering plastics including Die-bond composite board can all be cut to shape using our flat bed CNC machines. Our dedicated
cutting department can cut up to 100mm in material thickness.
Laser
Cutting up to 30mm acrylic thickness, laser-cutting leaves a clean edge that does not require further polishing. Greater design details are now achieved using laser-cut technology.
Printing
Using 3M flexible waterproof UV Inks, our flatbed printer process can print on materials up to 40mm in thickness. Printing allows the change of clear acrylic into colour. Printing full colour and white -Add decorative artwork, logo and signage messages to your project.
Vinyl Printing
Vinyl print and cutting vinyl is available for short term project use
Materials
Our material warehouse keeps stock of standard acrylic sheeting, keeping stocks of clear ,colours and textures acrylic material minimizers delays were possible.
Logistics
We ship to both local and international destinations. our Acrylics's logistics team excel at meeting our clients' delivery requirements and expectations.
Why Choose Acrylic
Why choose acrylic?
Acrylic has many benefits and is widely used for POS displays for some reasons.
* Acrylic is easy to clean and maintain
* It can be manufactured in any colour to suit your brand
* It has a transparency rate of 93%, providing crystal clear display stands

Acrylic can be manufactured with a high impact resistant feature, which can be beneficial to many environments.
How can I make the most of my acrylic display?
Display stands are versatile POS accessories as they can be used almost anywhere. To make the most of them, use them in yourwindow displays, on your countertops and in display cabinets.
The clear nature of acrylic means you can make your display stand out by introducing bright products. Colourful products pairedwith the added height of an acrylic display will catch your customers attention.
How do I keep acrylic display stands clean?
The best way to keep your acrylic display stand looking its best is with an Anti Static Optical Cleaner paired with a Micro Fibre Cleaning Cloth. We also have Acrylic Scratch Remover, which can restore your acrylic display stands if they have become scratche or worn. Regular cleaning of display stands will keep smudges and dust at bay for a professional and clean display.
What products are suitable for displaying on stands?
We have a vast selection of acrylic displays that are suited to many products. From books and plates to glasses and shoes, acrylic display stands can be manufactured to suit whatever product it is you wish to showcase.
Our stands are mostly available in black, white or clear acrylic. However we offer a completely bespoke service where we will work with you, your specifications and price point to create the perfect acrylic display stand for your business.
Imprinting
Imprinting Your Logo! Professional Imprinting on your Display! Your logo, on any display! Whether your company's name, logo,or tagline is a simple 1-color imprint or a flurry of colors, our expert printing will surely make your display look professional. We have done printing for companies both large and small. Our silk-screen imprinting is both affordable and available for quick shipping. Minimum of 50 pieces is required for all imprinting orders. Imprinted orders are non-returnable. Unauthorized returns will be refused and returned to sender.
Artwork Requirements & Submission Information
Artwork Submission Process Artwork should be sent out/submitted the same day the order has been placed to avoid delays. After receiving the file, we will review it for printing requirements.
If the file does not meet all necessary requirements, you will be contacted. If corrections are required, you may make these changes yourself and resubmit the file or choose to have us make the corrections (if we are able to do so). Additional costs may be incurred if corrections are required to prepare your file. After the file has been approved we will send you a virtual proof (picture of what you image looks like on the display). The proof will reflect any changes that have been made. Once we receive your approval, we will proceed with printing.Production lead times start AFTER printed proof has been approved! Artwork Requirements & GuidelinesOnly vector based artwork can be accepted.Convert all texts/fonts used to outlines. If unsure, send all fonts used. Logos and line based objects should remain in vector format. All colors must be separated for SPOT COLORS (pantone specified), no process colors

Orders canceled during production will be charged manufacturing costs incurred to date.
Customer All Love Our Products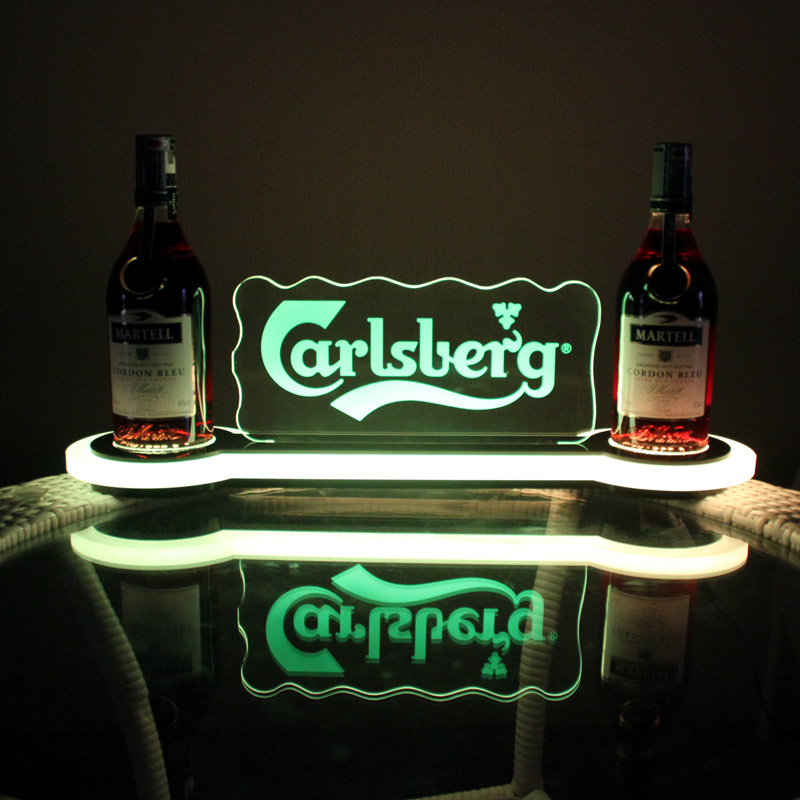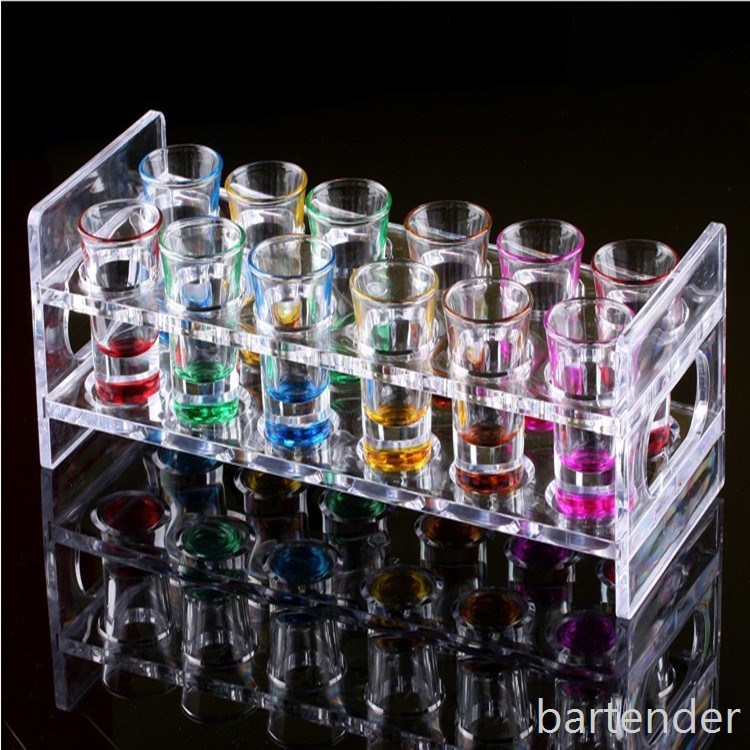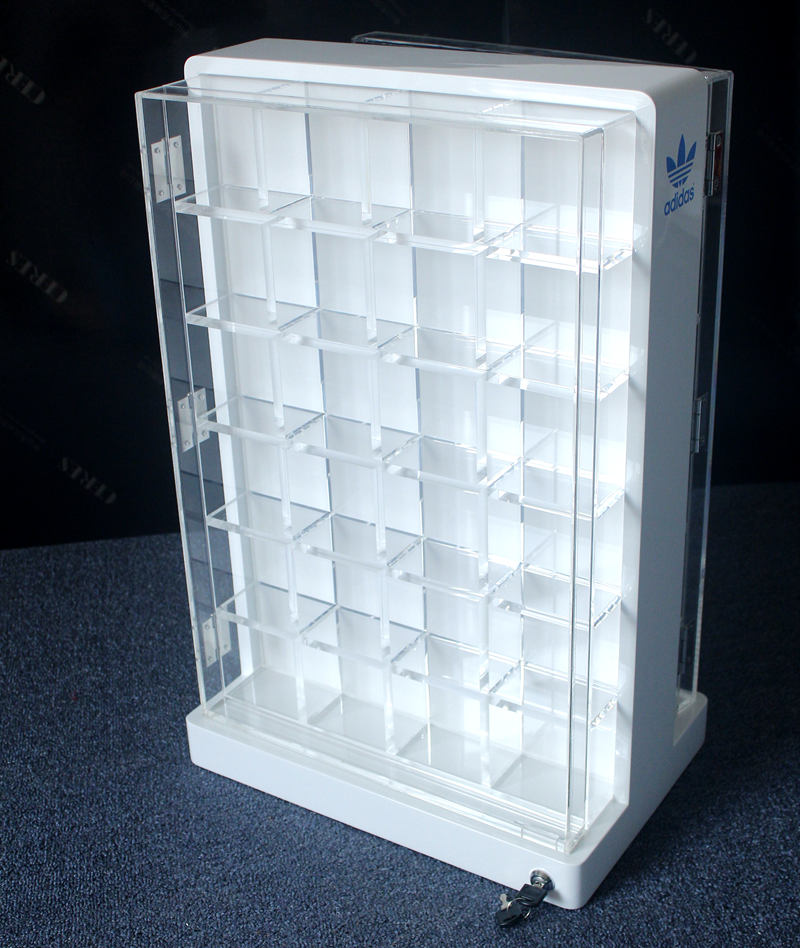 FAQ
Top 5 Most Frequently Asked Questions About Customization:

1. I only need one custom display. Will you create it for me?
Unfortunately no, however our minimum for customizing displays is 50 pieces unlike many other acrylic manufacturers that require 500 units minimum. We hope you understand as we cannot achieve manufacturing efficiencies producing small orders of, for example,1, 5 or 25 displays.

2. Will I be able to see a prototype before placing my order?
Yes, of course! Before any custom display order proceeds into production, we require that you see and approve of the display.Don't we all want peace of mind?

3. I need this display quick! How long will it take for this custom job to be done?
Generally our lead time is approximately 5-7 business days depending on the quantity, however if your order has a hot deadline we will do our absolute best to meet your deadline. We take pride in our quality, reliability, and speed and encourage you to compare us with our competitors because we know you will like what we do!

4. Can you silkscreen on custom displays?
The answer is simply, yes. We love doing it, we are great at it and it's something we are proud of. If you want to learn more
about these services, check out the information on our imprinting page or give us a call, we will be more than happy to guide you through the process.

5. How will my custom units be packed?
Most custom units are quoted as "bulk" packed but special packaging is available and can be quoted with a custom run price quote. "Bulk packed" does not mean we dump as many products as we can into a big box. Instead, we individually poly bag each product to protect them from scratches and pack them into a UPS Shippable box using newspaper, bubble and cardboard to ensure the displays make it safely to their destination. Our experience in packing acrylic displays has made us very efficient and knowledgable, giving our customers the peace of mind they can expect.

Where Do I Begin?
We understand this can be tricky, confusing and overwhelming. We are here to make it easier for you!

1. First, send us a picture/rough sketch/drawing of the display you want with measurements
2. State the purpose of the display and the quantity you wish to order

(Remember: Buy More, Save More & Minimum quantity is 50 pieces)

Next, we will design the display you want in a few different ways and present to you the most cost efficient method on how it will
be produced, along with a price. If we cannot create your display you will receive a call or e-mail stating the reason and an
alternative.

Here are 5 Reasons You Should Choose Us Over A Competitor

Experience: We are a quality manufacturer with over 19 years of experience in the industry with supplying large and small
customers in all sectors of our economy.

Pricing: As pricing is an important aspect of our product offering, we have priced our large selection of stock displays and holders very competitively to provide you with the greatest value.

We Offer Added Value:As a full-service manufacturer we continue to offer: * Custom Design, imprinting and fabrication services.Fulfillment services such as literature and product insertion, special packaging, and drop shipments to multiple locations.Free tracking for all online orders.

Made inChina: All of our fabricating, imprinting and shipping services are performed in-house at our plant in china .

Quick Shipping: Our team has been working together for years and has the skills and experience to have some of the quickest turnaround times in the industry without compromising on quality.

Contact us for your custom display needs!
As a professional Vape display designer and manufacturer, We do deep customized service for acrylic vape displays, cbd oil displays, e-juice and e-liquid displays, e-cigarette racks. Please feel free to contact us to create your own display stand.